The Connection Between Dandruff and Hair Loss?
If there's one similarity that binds both men and women when it comes to their hair, it's the problem of dandruff.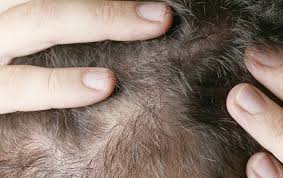 Dandruff is itchy, and dandruff doesn't look nice on anybody.
You can have it anytime during your life, and some even have it as far as they can remember. For some people, it is just a passing phase that they go through in their lives, but for some, it is a lifelong issue. You may have come across numerous advertisements on TV claiming to wipe off every little speck of it from your hair.
The questions is simple, are you fearless enough to wear a black tee wherever you go, considering you can see dandruff
most on that color?
Does Dandruff Causes Hair Loss?
Yes, it does. If you're wondering what is the connection between dandruff and hair loss, here is the thing – your hair wouldn't be as strong as before, since dandruff directly affects the scalp.
Skin conditions such as Psoriasis or Eczema are some of the diseases that you might have to deal with. Dry skin is also
one of the major causes of dandruff being caused by the hair. Here is how it can affect you.

– If left untreated, it can cause temporary hair loss.
– Those who do not wash their air daily are at an increased risk of hair loss.
– Scratching your scalp is one of the primary reasons for hair loss if you've dandruff.
Getting the right amount of confidence
A dandruff shampoo needs to help you get that confidence to do a whole lot more with yourself and not worry about your hair. It is also equally important to consult a dermatologist if you think that you need a medicated shampoo of some sorts to keep your dandruff under control.
Here are 5 things you should know while choosing your dandruff shampoo:
1. Know your hair and scalp type- Depending on whether your scalp is oily or dry; your shampoo will also differ accordingly. So choose wisely, and read the labels before just picking a random shampoo off the shelf in future.
2. Strong or mild shampoo- Depending on the severity of the dandruff situation, you can choose shampoo that has a light or a heavy concentration of chemicals to clear out the dandruff.
3. Choose the right company- Choose shampoo from a reputed company, one known for making shampoos relating to dandruff problems or other skin and hair problems.
4. Visit a dermatologist- since dandruff is simply dead skin cells that are shed from our heads, it is best that you visit a dermatologist, to see why it is being caused.
5. Read the labels on the back- Each dandruff problem is unique. Thus there are shampoos out in the market to cater to each individual's problems. Here are some products to look out for in your shampoo:
a. Salicylic acids- This is a strong ingredient used in several in most scalp scrubs
b. Ketoconazole- This is a very effective anti-fungal ingredient possibly used in almost all dandruff shampoos.
c. Tea tree oil- An important antifungal as well as antibiotic and an antiseptic!
d. Green tea- The benefits of green tea are numerous and shampoos that contain this may be able to treat dandruff conditions effectively, or so research says.
e. Zinc pyrithione- slows down the production of yeast
You can get rid of dandruff with a good dandruff shampoo. Since dandruff likes to stay on your hair, it is important to wash your hair daily, with a shampoo that understands you.