KeraFiber is a natural and organic keratin protein that eliminates bald spots as well as the appearance of thinning hair.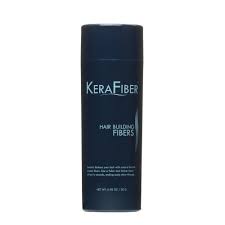 There's a wide range of KeraFiber hair products designed to eliminate the appearance hair thinning, giving your scalp and hair a fresh look whilst remaining unnoticeable and resilient to the effects of weather conditions. This KeraFiber review will walk you through everything you needed to know about the product.
Does it really work?
Whether your baldness is as a result of chemotherapy treatments, or previous mistreatment of your hair, KeraFiber offers a solution to your thinning hair. KeraFiber has already benefited hundreds of thousands of people across the world and you too can benefit. KeraFiber hair building fibers, the primary product bonds with the natural hair to give it thicker and fuller appearance.
How does it work?
As stated, the primary product in the range is KeraFiber hair building fibers. These fibres bear a strong resemblance to the natural hair. These fibers are charged with static electricity so they can adhere to your existing hair to give it a confidence-boosting look. This means you won't have any embarrassing moments. When the fibers are set in place, rest assured that they won't come off with normal hair pat or with perspiration.
What are the fibers made of?
KeraFiber hair building fibers are made up of organic, natural keratin protein, exactly the same protein from which your hair is made up of. In order to intertwine well with your own hair and bond safely, the fibres are charged with static electricity. This electricity means that they intertwine with hair to create a look that will last for a few days.
Is KeraFiber safe?
A simple answer to this question is, yes. As mentioned, KeraFiber fibers are natural and organic since they are made up of natural keratin protein. This simply means that there is no risk at all should you opt to give it a try. KeraFiber fibers are also recommended for use by leading hair loss experts after undergoing hair transplant surgery as a means of reviving and rebuilding areas of thinning hair.
Bottom line:
We think the product is effective but not amazing given the fact that it's pricey compares to other
fibers out there (for example: for 28gm kerafiber is 44.95 and Febron 28gm is 34.95) and doesn't feel
comfortable on your head due to the heavy fibers.