Looks 21 Hair Building Fiber is a hair loss product which is made from all natural fibers, and is safe even for those with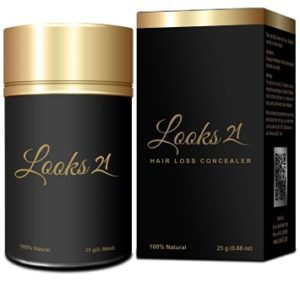 sensitive scalp. It's free of preservatives and synthetic dye fillers, and can cover the bald spots and thinning areas, giving you much fuller and thicker hair, in a short time.
Some of the features of Looks21 Hair Building Fiber include;
-It's an innovative and cost effective solution to hair loss.
-It's a safe option for instantly making your hair look thicker and fuller.
-100% pure, all natural and free of the synthetic dye fillers and animal derivatives.
-It's undetectable.
-It removes easily with shampoos.
-Lasts all day and all night, and can withstand sweat, wind, and rain.
-Does not stain or smear your clothing or skin
-Works for both women and men
Ingredients
Looks21 Hair Building Fiber is made from 2 key ingredients;
-Moroccan Gossypium Herbaceum fiber; Also called Levant cotton, the Moroccan Gossypium Herbaceum is a plant which only grows in Morocco's arid regions. The fibers from the plant have optical properties which are similar to the natural human hair. The Moroccan Gossypium Herbaceum fibers are normally negatively charged, while the human hair is usually positively charged. Thus, the Looks21 fibers bond to the human hair 200% much stronger than other regular types of hair building fibers; this is 1 of the main reasons why the Looks 21 Hair Building Fiber gives users that all natural look.
– Natural Mineral Based Colorants; Virgin Gossypium Herbaceum fibers are grayish white. These fibers are normally          dyed into various different colors so as to match the human hair colors. Because of the micro structure of the                       Gossypium Herbaceum, its' fiber can be dyed using the mineral based colorants.
Benefits of Using Looks 21 Hair Building Fiber
– This hair building fiber stays in place for a long time, and gives you natural looking hair til the next time you decide to        shampoo your hair.
– It's an effective and natural solution for hair loss and is recommended by hairdressers and hair transplant surgeons.
– You can purchase Looks 21 Hair Building Fiber according to your hair color or choice.
– Helps in eliminating bald spots and/or appearance of the thinning hair.
– It gives a natural look because it's undetectable.
– It has the ability to resist wind, and rain.
– It's durable yet it can easily be removed with shampoo.
Usage
To apply Looks21 Hair Building Fibers, you simply need to sprinkle it over the thinning areas or the balding spots. In just a few seconds, the fibers will automatically cling to the natural hair. They get magnetized with static electricity, bond securely, and you hair thickens thus eliminating bald spots and/or thinning hair. If you have thinning hair or bald spots, you should consider getting the Looks 21 Hair Building Fiber.
Our Recommendation:
We didn't like the fact that the magnetic charge wasn't strong at all and some fibers fell from the scalp
so unfortunately we can't speak highly about this product.