Viviscal Hair Fibers contain electrostatic-charged, microscopic fibers which bond onto the hair to create a 'voluminous'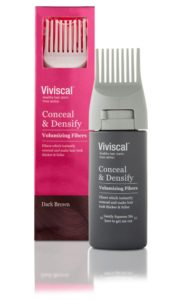 appearance. Now, going by the manufacturer's description, each single strand or fiber is coated with an electrostatic coating, which, in return, binds it to the hair shaft/upper follicle and thus leaving behind a full-looking and healthy head of hair. All this can be achieved in less than a minute, giving you a natural looking, undetectable appearance of thick, glossy hair.
Features of the Viviscal Hair Fill-in Fibers
It is imperative to note that these are fill-in fibers and not your usual human hair implants. The product is thus designed to instantly volumize ( or make look bigger ) the appearance of one's hair. For this reason, it is mostly recommended for people with thinning hair and not completely bald spots.
Ease of Use/ Functionality
As far as the manufacturer directives go, Viviscal Hair Fibers can be used by both women and men, regardless of their hair texture and color. Nonetheless, you will obviously need to purchase fibers whose shade and color closely resembles your natural hair. Speaking of which, for the more eccentric types, you can blend more a single color with your already existing hair to come up with a new unique shade.
Aside from this, Viviscal Hair Fillers and Concealers are well-known for being extremely easy to apply. You will only need to tap it on and you can be ready to step out in less than a few minutes. If this sounds like something that you would wish to try, then you will be pleased to know that Viviscal Fibers can withstand a moderate amount of rain, sweltering heat and wind. However, the fibres will wash out easily if drenched with shampoo water.
How Does It Work?
The product is designed to work best with dry hair, so make sure that your scalp is not wet. After this, gently stroke the scalp to scatter the strands evenly. Now at this juncture, it is useful to note that each strand and fiber has a special electrostatic coating that instantly rubs and binds onto your hair shaft. This in return gives out the appearance or illusion of a greater hair density thus bringing out that coveted thick fuller-looking head of healthy hair.
Our opinion about it:
Over all Viviscal is a good product but not the best out there !
The issues we had with that is that the fibers weren't strong enough on the hair
and it didn't look natural under the sun but overall covered the area well