Ketoconazole is a great anti-fungal active shampoo ingredient found in shampoos such as the Nizoral shampoo.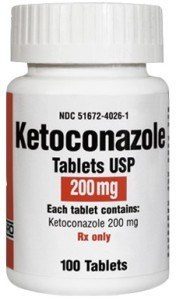 Ketoconazole was initially taken orally for treatment of many different fungal infections. The anti-fungal ingredient has been found to help in combating hair loss effectively when in topical form. It acts as an androgen receptor antagonist which implies that it competes against the DHT (dihydrotestosterone) hormone so that it can bind to the androgen receptors within hair follicles. The competition is helpful in reducing the DHT hormone which is the main causes of hair loss.
How does it work?
Ketoconazole is found both as a pill and also in topical form. The Ketoconazole pills work as an anti-fungal agent which treats various skin infections. Oral ketoconazole however does not contribute in hair loss treatment. When the drug is in topical as an active ingredient in shampoos, it is applied on the scalp, whereby it competes with the DHT hormones. This in turn limits the hair loss causing hormone; DHT which entirely provides a solution to hair loss problems.
Benefits of Ketoconazole in preventing and treating hair loss.
Some of the great benefits of Ketoconazole include;
· It is effective in treating various fungi and microbial infections.
· Ketoconazole is commonly known to treat dandruff effectively.
· The product is also used for treating a wide range of medical conditions due to desirable impact.
· The synthetic ingredient's many anti-fungal activities against microbes enhance your scalp's health.
· It has anti-inflammatory properties.
· The ketoconazole shampoo is a relatively affordable hair loss treatment option.
· It increases hair thickness while limiting the pushing of sebum to the scalp surface.
· Promotes growth of hair.
Does Ketoconazole work?
Any shampoo with the active ketoconazole ingredient is greatly recommended for optimal treatment of hair loss. Ketoconazole is actually a great shampoo ingredient that has been proven to effectively slow or prevent hair loss. A good number of studies, as well as research, have proven this shampoo ingredient to be very effective as a solution to hair loss conditions.
Are there any side effects or risks involved?
One of the side effects that have been observed with Ketoconazole is leaving hair a little flat and lifeless. The ingredient basically obliterates the scalp in the process of eliminating any fungus developing on your scalp. This might be a problem especially for those who have hair that is already thinning since when they apply a ketoconazole shampoo, it makes the hair look even thinner. A great solution to this effect is buying a thickening volumizer or conditioner for use after using the ketoconazole shampoo.